CONTROLIQ Desktop Version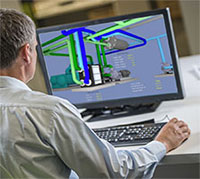 Understanding fluctuating temperatures, ever changing meeting space demands and the complexities of the equipment required to keep tenants comfortable is the goal for any building manager and CONTROLIQ has the solution.
CONTROLIQ has now become even easier to view and manipulate with its updated desktop application. This view allows for:
Major system programming
In depth system diagnostics
System administration
Intuitive reporting tools
Building managers can "see" into the bulding's equipment to gain a better understanding of how the equipment is and has been performing, proactively address issues before tenants even notice there's a problem and make adjustments quickly all without having to leave the comfort of their office. Sound interesting? Discover how CONTROLIQ desktop can get you there!